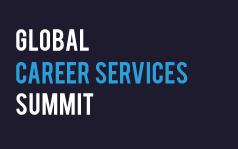 The Global Career Services Summit
is a unique, invite-only forum
bringing together thought-leading Directors and Heads of Career Education from top Universities and Colleges worldwide to engage in problem solving, the sharing of best practices and co-creation of new approaches in order to equip our students to thrive as they build their future in an ever-changing world.
Through structured workshops, presentations and small group interactions the Summit aims to achieve the following objectives:
To share observations and insights about the ever-changing world of career education services.
To discuss the challenges and opportunities which are central to the successful delivery of career services for tomorrow's students and employers.
To acquire an appreciation and understanding of the similarities as well as differences of career services worldwide.
To provide a venue to build a global network of leaders in career education.
Please note that all sessions will be delivered in English.
We look forward to welcoming you to Toronto, Canada from the 12
th
to 15
th
March 2019.
Your $930 CDN registration includes:
Opening summit dinner
3 nights accommodation at the Marriot Courtyard Hotel
All meals and beverages
Conference fees
To ensure an intimate setting that enables a deep dive into discussions pertaining to career education from a leadership standpoint, Global Career Service Summits are capped at 80 participants.
Register early!
Costs: $930 CDN
Please note that as all efforts have been taken to ensure the GCS Summit fee is kept at a minimum, we are unable to provide refunds due to booking requirements for hotels and other Summit related facilities.
Please select an option below