Student Life Events at St. George
Research Spotlight
Jan 20, 2021 04:30 PM to 06:00 PM
Online
Registration Deadline: Jan 20, 2021 12:00 AM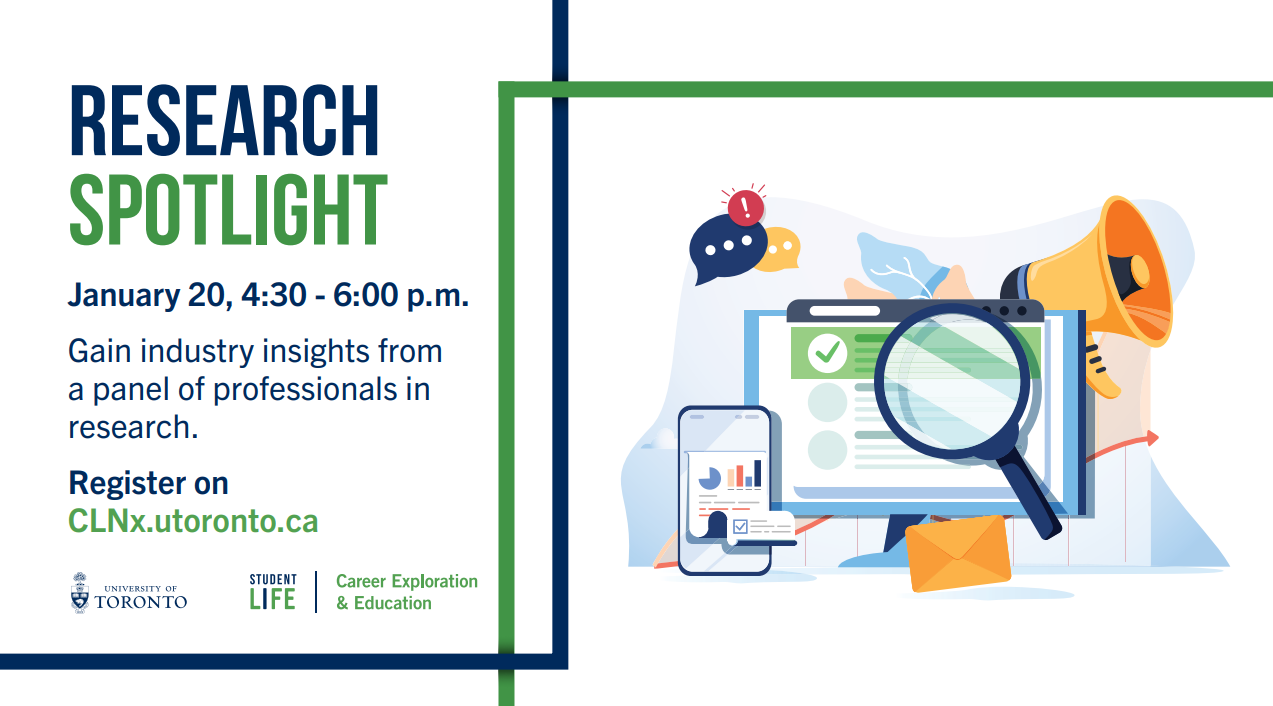 Calling all U of T students and recent graduates. Are you interested in exploring research opportunities?
Join us for an afternoon of conversations with professionals working in the field of research. Through this panel discussion, you will have the opportunity to ask questions, learn about careers in this field, and gain insight on how to get involved with and find work in this area.
After the panel discussion, we will be asking the panelists to rotate from room to room on Zoom for more informal "speed networking" conversations with students, followed by small group reflections on your own experiences and thoughts.
Event Details:
Date
: January 20, 2021
Start Time
: 4:30 PM
End Time
: 6:00 PM
Location
: Zoom - a link will be emailed out to all registered attendees prior to the start of the event
Recording
: A recording of the session will be uploaded here within 24 hours of the event.
Speaker Biographies:
Danielle Klein, UX Research Manager at Wealthsimple
Danielle leads the UX Research team at
Wealthsimple
. Since starting there a little over two years ago, she founded and built the research practice, which today includes three additional researchers. Before joining Wealthsimple, Danielle worked as a Product Designer at
FreshBooks
. She also previously co-founded
UX Research Collective
, creators of the UX Research Conference. In her spare time, she likes to read lots, write lots, and meander around her neighbourhood, Leslieville.
Nimara Asbah, Research Assistant at McGill Genome Centre
Nimara is a Research Assistant at the McGill Genome Centre (MGC). At MGC she works in agroup called DoVee, where they are trying to find a clinical test that is similar to the PAP smear test which will allow us to detect ovarian and endometrial cancer at very early stages thus giving the chance to treat and cure many women when the cancer is detected in the first stages. In her spare time, she makes jewelry pieces.
Dress code:
Dress standards are not consistent across different organizations and industries. Dress "professional" as it relates to the organization and industry you are pursuing. Remember that a recruitment information session is a business meeting and you want to make a professional first impression - even online!
Cancellation:
If your plans have changed and you are no longer able to attend, please cancel your regulation on CLNx at least 24 hours prior to the event time. When you do not attend an event or do not cancel your registration on time, you are preventing another student from attending the information session. Please be respectful and responsible to your student community, the employers, and plan your attendance accordingly.
Waitlist:
Many recruitment information sessions have a limited number of spaces, and we often run a waitlist. The Campus Career Services staff will contact you if space becomes available for you.
Accommodations:
If you are a person with a disability and require an accommodation, please email
events@careers.utoronto.ca
10 working days prior to the event.
Support Services
Are you seeking someone to talk to? Good2Talk is Ontario's free, confidential and anonymous post-secondary student helpline. Call 1-866-925-5454 to connect with a counsellor at any time
http://www.good2talk.ca/
My SSP is available for all students | 1-844-451-9700. Outside of North America, call 1-416-380-6578. Culturally-competent mental health and counselling services in 146 languages for international students.
If you are experiencing an emergency here in Toronto, the emergency services telephone number is 911 (Ambulance, Police, Fire). For U of T Campus Police call 416-978-2222
http://www.campuspolice.utoronto.ca/
Statement on Acknowledgement of Traditional Land:
We would like to acknowledge this sacred land on which the University of Toronto operates. It has been a site of human activity for 15,000 years. This land is the territory of the Huron-Wendat and Petun First Nations, the Seneca, and most recently, the Mississaugas of the Credit River. The territory was the subject of the Dish with One Spoon Wampum Belt Covenant, an agreement between the Iroquois Confederacy and Confederacy of the Ojibwe and allied nations to peaceably share and care for the resources around the Great Lakes. Today, the meeting place of Toronto is still the home to many Indigenous people from across Turtle Island and we are grateful to have the opportunity to work in the community, on this territory.
Revised by the Elders Circle (Council of Aboriginal Initiatives) on November 6, 2014.