Student Life Events at St. George
Meet Through Games
Mar 17, 2023 06:00 PM to 08:00 PM
Cumberland Room at Cumberland House - 33 St. George St.
Registration Deadline: Mar 17, 2023 06:00 PM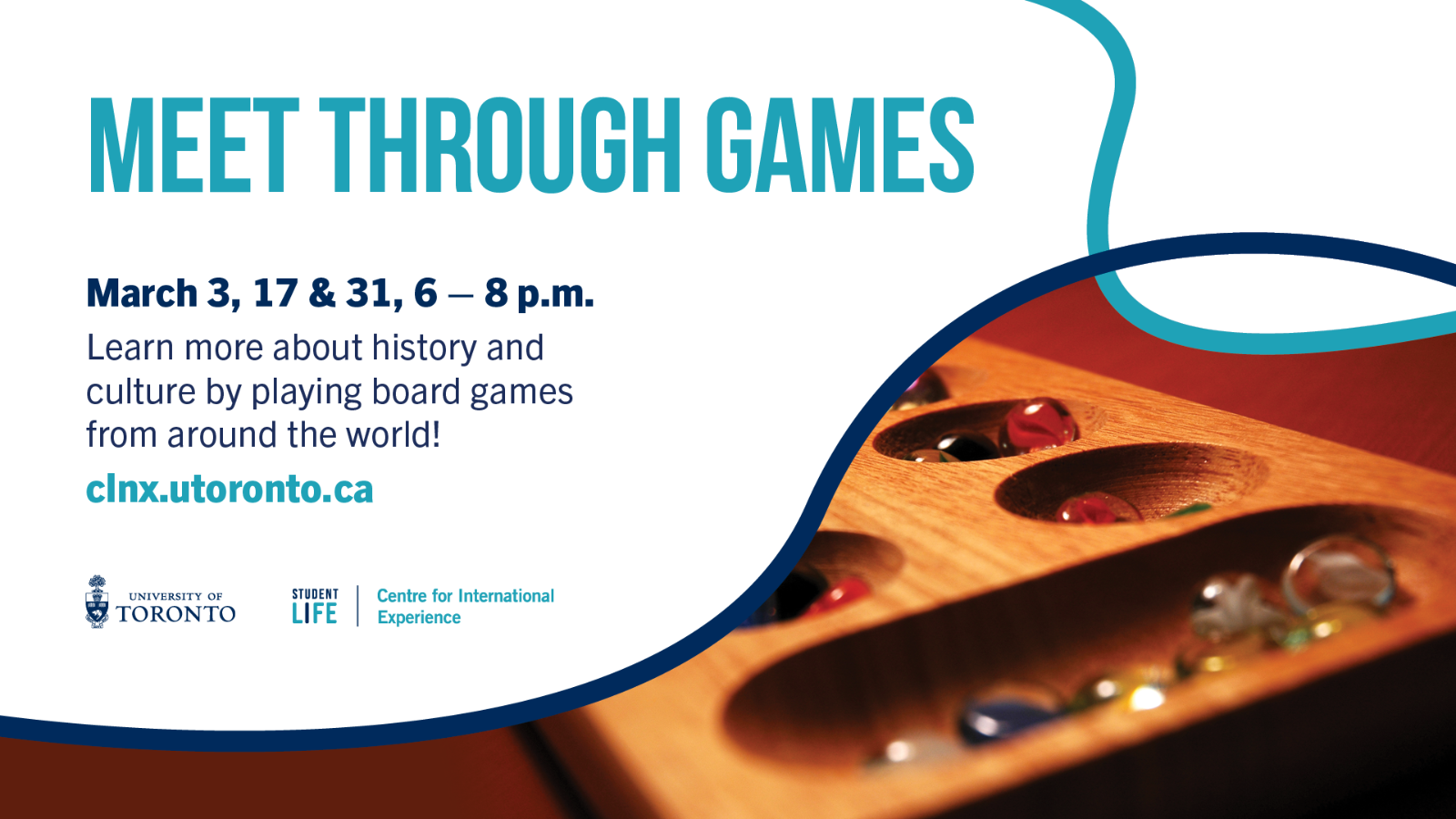 Join us for a fun board game night! "Meet through Games" focuses on hosting a series of board game workshops to bring U of T students together and facilitate their understanding of each other's history and culture through board games. We will be exploring and playing board games from different regions every other week. You will expand their social connections and improve their intercultural understanding in this program in a relaxing environment.

Attend all three events (on March 3, March 17, and March 31) to collect stamps on a mini passport and win prizes! All students are welcome to attend, no prior experience in playing board games needed.

This Week's Meet Through Games
This Friday (March 17th)'s "Meet through Games", we will be exploring board games from Europe, Africa and Oceania*, and learning about the historical and cultural facts behind the board games. Enjoy playing board games of their choice in groups and meeting other students. We will also provide snacks and beverages!

Games that we will play include Cribbage, Backgammon, Scythe, Ticket to Ride (German-style), Mancala/Oware/Congkak, and Catan.

*Disclaimers:
You are welcome to bring your own board games. If you choose to bring your board games to the workshop, you are responsible for your properties.
We select the regions for the workshops purely for the convenience of workshop logistics without any cultural implications. Please feel free to contact us if you have any concerns or more ideas about this event.
This event series is part of the International Student Experience (ISE) Design Challenge organized by the program participants. Learn more about the ISE Design Challenge by visiting
the Center for International Experience - Programs & Events (Under the section "Connect") webpage
and find out how the program works to get Co-Curricular Record (CCR) recognition.